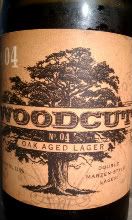 Woodcut #4
Odell Brewing Co.
800 E Lincoln Ave
Fort Collins, CO
Aroma:
(11/12)
A very nice malty aroma is the first thing that is apparent. Has no presense of hotness or sweetness. Almost a barleywine characteristic. Raisins and apricot hints...
Appearance:
(3/3)
The Woodcut #4 is a nice light brown hue, much like a copper. A very healthy head poured from the bottle and sticks around, probably two fingers worth Lacing on the glass is minimal.
Flavor:
(18/20)
Well, contrary to the aroma, the flavor definitely has a huge malt backbone and the heat from the alcohol is definitely there, but not overly so. Sweetness makes itself known.
Mouthfeel:
(5/5)
The body from this oak-aged lager is medium to medium heavy. There is some dryness on the back end, but definitely would not be considered a dry beer.
Overall Impression:
(9/10)
Odell has done a great job on their Woodcut #4 Oak-Aged Double Marzen. Clocking in at 11%, it is a big beer, but this gem comes off very smooth! Slight hints of vanilla from the oak adds great texture and complexity.
TOTAL:
46/50